I had a brief look, and couldn't see anything overtly wrong with the current build of the game, but I'm sure someone will either remember or find something. So with that said,
Overcrowded
Overcrowded is a Wolfenstein 3D Randomizer I was given too much creative freedom with.
The objective was to create a spin on Wolf3D, with the only changes being made to the exe. The end result of this project is two game modes:
RandomX
The core game mode of the mod. This removes all enemies, and randomizes their spawns, with the ability to choose the spawn rate of enemies. Along with the randomized spawns, there are also special variants of enemies, each with their own abilities (and possibly rewards).
To compensate for the challenges that can lay ahead, the treasure littering the map now contributes to Buff Points, which increase your health and ammo limits, and at certain amounts can be spent to unlock new weapons.
Boss Run
All enemies and most pickups are removed from the map. Instead, food and ammo randomly litter rooms, and bosses are everywhere! The first level eases you in with just a few, but later levels will see you surrounded if you're not careful. There are also multiple special variations of bosses with attacks to change things up.
There are several new weapons exclusive to this mode to alleviate stress, including a shield item and freezing syringe.
There are also WSAD controls, just saying.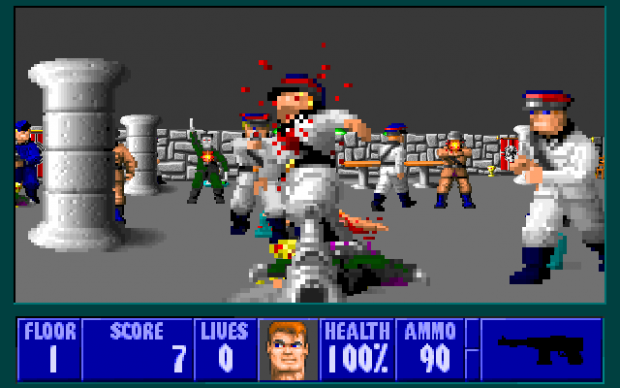 The mod runs on Wolf4SDL, and will run with the registered version of Wolf3D. It should also work with most wl6 mods that don't require their own custom exe, though mileage will vary with mods that change art.
If you encounter any issues, please let me know. There will be a few bugs present, but the core game functions, which is what matters.
Download Here
Please have at it. The game also takes screenshots when you finish levels in RandomX (Unless turned off in Options), and will take screenshots of end of game results. If they function as intended (lol) please share your killcounts!