The recent discussion surrounding plots in mods has me considering just how capable the engine is when it comes to storytelling.
For many mods, story really comes second to just making a game.
For other mods, there's typically a few ways the story will be delivered:
Through a text file accompanying the game download.
Through the Read This! option available on the in-game menu, and/or the end-screens at the end of an episode.
Through intermission screens that work off the Read This! functions, displayed between levels.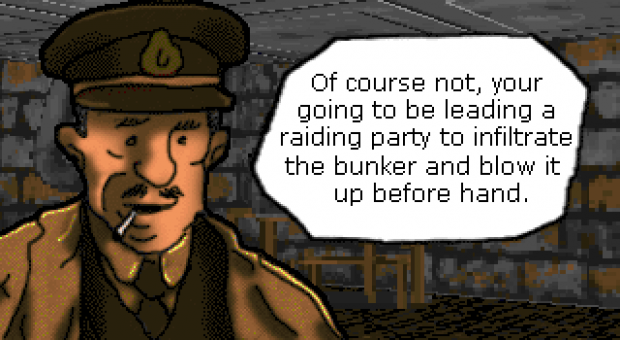 There are variations such as
Unsung
which uses comic book style cutscenes between levels, and
Absence
which has log-files to be found during gameplay that reveal more of the story, but these are all usually iterations of the Intermission Screen functionality.
But what of other storytelling tools?
Voices
- I cannot think of any mods that have the player character speak, and none that have the player say important things relevant to progress or plot. Things as simple as the player character having something to say after a boss is killed can go a long way to expressing motives, emotions, or what to do next.
Cutscenes
- We know cutscenes are technically possible to some degree in Wolf3D, as shown by commercial megahits and consistent franchises Corridor 7 and Operation Body Count.
Furthermore, as shown in Dunkelschwamm's little novelty project
Operation Drehen
, with a little tweaking ECWolf is capable of full motion video.
If this were pushed further it would be interesting to see what could come out of it. I look forward to the remake of Island Peril
There are other notable examples of story-telling in games, exhibited in those few projects like
Witching Hour
. It tells a lot of story by changing the environment subtly around the player, informing them purely through events unfolding and the sounds in the distance.
These sorts of elements are restricted to more controlled and slower-paced games in most cases, as most Wolf mods are still run&gun at heart, but it's still another important element at our disposal to consider.
Does anyone have any other insight into other ways story could be told? Or any mods you think are particularly notable for the way they tell their stories? Why don't you think there's more story-heavy work?